Professional Rug Cleaning
We specialize in traditional hand-washing of oriental rugs and related textiles without the use of scrubbing machines or automated systems. Each rug is washed individually, using a brush, organic rug shampoo & plenty of clean, cold water.
While the process is more time consuming, this approach allows us to remove dirt, pet stains/odor, allergens, toxins & carcinogens. Many common issues such as pet odors, moth infestations, and wine spills are easily removed and without the use of harsh chemicals or additional up-sell pricing.
We Specialize in Cleaning:
Hand-knotted wool rugs: Oriental, Persian, Chinese, India, tribal, or Flokati
Machine-made & tufted wool rugs with cotton back: Karastan, Kilim, Shag, or Braided
Special-care rugs: Silk, Navajo, tapestry, animal skin, or fine antique rugs
Our Difference:
20 years of industry experience
Organic & Eco-Friendly Cleaning
7-Day Turnaround Time
No Chemicals
No Color Runs
No Odors/Residue
No Hidden Fees
Free Pick-up & Delivery
In-Plant Organic Rug Washing Process:
Rug cleaning is very different from carpet cleaning. In-plant rug cleaning is recommended for Navajo, Turkish, Afghani, Persian, Oriental, and other hand woven rugs.
1. Inspection & Dye Testing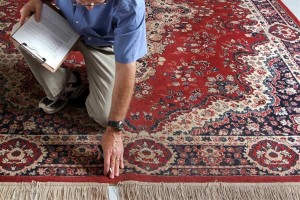 Upon pick up or arrival at our facility, a rug is rolled out, identified and measured.
We analyze the knot structure, rug dyes, condition, age, & damage and outline the cleaning process. Rug is then inspected for any per-existing conditions or problems, which will then be discussed with you.
Mold and mildew
Stains, color bleeding, discoloration and browning
Rug spots, rug stains
Fading
Worn and rotten fringes
Pet odors and waste, such as pet urine, feces and vomit
Moth damage
At this time, possible solutions are offered to the client, for example; repairs, re-weaving or urine odor removal, and etc.
Different cleaning options are also discussed and priced, as are other beneficial treatments that are available like moth repel, sanitizing, and etc.
2. Dusting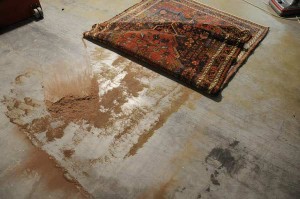 The rug is dusted thoroughly. Settlement of dust, sand, or grit can reduce the life of a carpet by causing premature wear. This is an important step in the cleaning process, and is not included at cleaners offering on-site cleaning, dry cleaning, steam cleaning and other cleaning methods.
3. Hand-Washing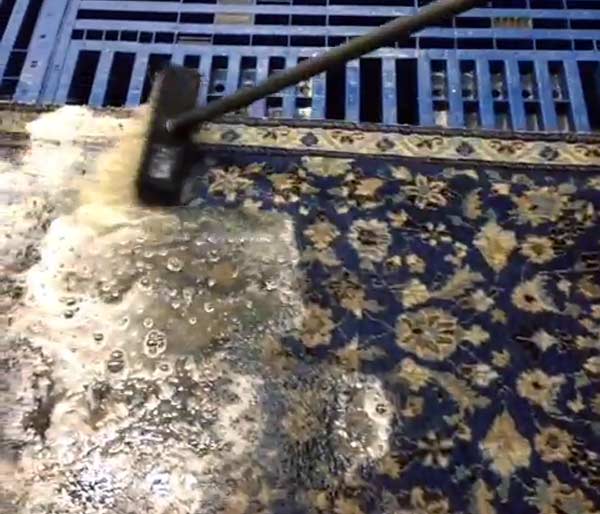 The rug is soaked and scrubbed, going the way of the pile. All work is gently done by hand to insure the deepest possible clean. This process is repeated until necessary.
4. Rinsing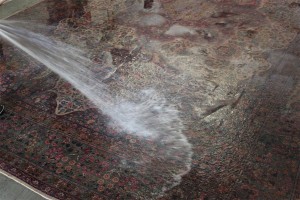 The rug is thoroughly rinsed – front and back to remove rug shampoo. This process is repeated many times over if necessary. The remaining soap, contaminants and particles are removed safely, gently and completely. We make sure no residue of any cleaning or spotting agents is left in the rug.
5. Drying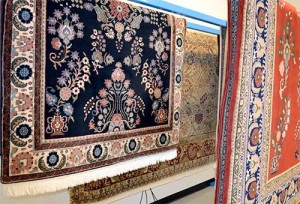 The water is extracted from the carpet using an extraction vacuum. It is carefully hung to dry in a temperature controlled room (filtered air drying conditions, with no allowance for growth of mold or bacteria).
6. Fringe Details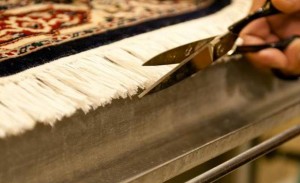 Hand clean the fringe – restoring it's original color and luster.
7. Wrapping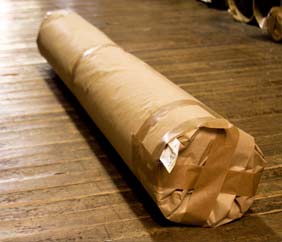 The rug is individually wrapped and readied for pickup or delivery. When your rug is delivered, we will place the rug where you desire, including moving and replacing furniture.
The End Result:
Your rug is free of residues, allergens, dirt, grime, soil & toxic substances – cleaner & healthier for you & your family.
ScotchGuard
ScotchGuard is sprayed on to provide a protective coat against dirt and spills. We highly recommend it for ivory and cream colored rugs and for solid colored rugs in which stains are harder to hide. This protective coat will wear off with normal traffic and vacuuming and we recommend a rugs to be reapplied every year. Once your carpet is washed, this protective coat will have to be reapplied.
Rug Care & Maintenance Tips
Vacuum
To keep the rug in a good shape, vacuum in the pile direction. Pass your hand over the rug – if the pile rises and feels rough, then you're stroking against the pile direction.
If yarn loosens, cut it with scissors; never try to pull it away.
Rotate the rug to reduce wear and risk of fading in sunlight.
Do not place heavy furniture on the rug. If the rug gets impression marks, these can be removed with water, using a soft brush.
Stay away from do-it-yourself rug cleaning.
Do not clean on location like wall to wall carpet.
Storage
Before storing the rug away, clean it and, when it's dry, roll it up. Wrap the rug in fabric, paper or other material that breathes – do not use plastic. Store the rug in a cool, dry place.
Padding
Preferably, use anti-slip underlay under the whole rug. Besides preventing people slipping, the anti-slip underlay keeps the rug firmly in place, making it easier to vacuum. And, as the rug stays put, the wear and tear is reduced.