Professional Rug Cleaning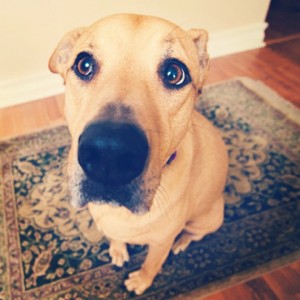 In-plant rug cleaning by hand-washing is required for area and Oriental rugs, wool rugs and loose woven carpets.
Capital Rug Cleaning cares for the finest to the most basic rugs from around the world. We'll pick your rug up and bring it to our special cleaning plant where it will receive several treatments for a more thorough deep cleaning, controlled drying, and tools not available on location.
Drop-off your rug to Save 20%
836 Ritchie Hwy. (Suite 3R), Severna Park, MD. 21146 (view map)
Pet Stains and Odor – Pet urine contains acid, once settled at the foundations of a rug, will damage, weaken & break the natural fiber, causing loss of pile in the long run. It should be treated as soon as possible to avoid permanent damage.
Organic Rug Washing Process
– washing results in a rug that is free of residues, allergens, dirt, grime, soil and toxic substances. Using gentle soaps and plenty of clean cold water. Eco-friendly, kid and pet-safe.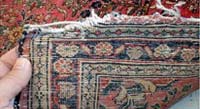 1

Inspection
Each rug is unique, especially hand-knotted rugs. We analyze the knot structure, wool colors/dyes, condition, age, & damage (pet stains, odors, mold, water damage, etc.). We outline the cleaning process here.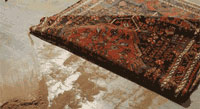 2

Rug Dusting
Even if a rug doesn't look dirty, it slowly gets duller and the fringe starts to look bad. If you wait, dust, especially silica, sinks down and will saw away at the fiber. We remove these particles deep in the rug pile. It's important to clear the pile before washing.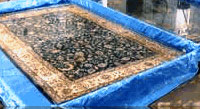 3

Test Dyes / Thoroughly Soaked
Saturate the rug with water, using the hose, front and back. Soak the rug (one at a time) to insure the deepest possible clean. All work is gently done by hand with attention to detail. We do not use machinery to wash or scrub.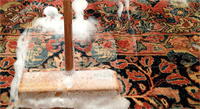 4

Hand-Washing & Rinse
True hand-washing is a method of immersing the rug in cold water and scrubbing it with an approved wool-cleaning shampoo and a brush with a long handle, gently brushing the rug, going the way of the pile. Then brush the rug in the direction of the pile.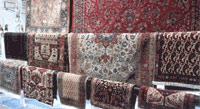 5

Final Rinse/Water Extraction
Thoroughly (front/back) until shampoo is removed (determined by taking pH readings) and water running off your rug is clear. We make sure no residue of any cleaning or spotting agents is left in the rug. Your rug is carefully hung to dry in a temperature controlled room. Average drying time is 24-48 hours.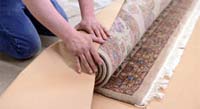 6

Inspection & Wrapped
We check to make sure your rug cleaning meets our rigorous quality standards and repeat any earlier steps if needed. Rug is wrapped – customer is notified to pickup or schedule a delivery.
After our thorough 6-step organic cleaning process, your rugs come out looking fantastic. Still have questions about our oriental carpet cleaning process? Call us at (443) 883-5825 with any questions you may have.
To schedule an appointment for free picked-up,
call 443-883-5825
or
schedule online
.
Drop-off your rug to Save 20%
Rug Washing FAQ's
Can my rug be cleaned at home?
No. A full wash process for an Oriental rug involves dusting, immersion in cold water, gentle scrubbing, rinsing, extracting water and finally hanging in an area adjusted for temperature and humidity. This is why in-plant rug cleaning is recommended.
A rug cleaned at home will just be surface cleaned and the base/foundation will be full of dirt and grit, which will continue to damage your valued possession. It may also be left damp which can allow rot to set in or allow the colors to bleed.
Can my rug be dry cleaned?
No. The dry-cleaning process strips the lanolin from the wool (its natural protection) and leaves it brittle so it will wear much more rapidly.
Can anyone clean an Oriental rug?
No. To complete all of the above stages takes specialist knowledge, experience and equipment. Anyone you use should be happy for you to drop the rug off at their facility and talk you through the process. You are always welcome to drop your rug off with us.
Your area or Oriental rug, when cleaned by an inexperienced cleaner, could be damaged in any number of ways including:
rot could set in to the foundation
you could lose pile and/or fringe
the colours could bleed
it could smell of damp
Can you remove all stains?
Most stains come out in the standard wash process. We will then treat any that remain with special solutions. However, if they are still present after that then they are permanent.
What do I do in the unlikely event that I am not happy with the results?
We will advise you of any possible problems with your rug before beginning the wash process and the expected outcome. If for any reason you don't believe that the results have met our assessment of the results then we will wash the rug again for free!