Oriental Rug Cleaning Services
Capital Rug Cleaning's in-plant rug washing process eliminates residues, allergens, dirt, stains, soil & toxic substances – cleaner & healthier for you & your family.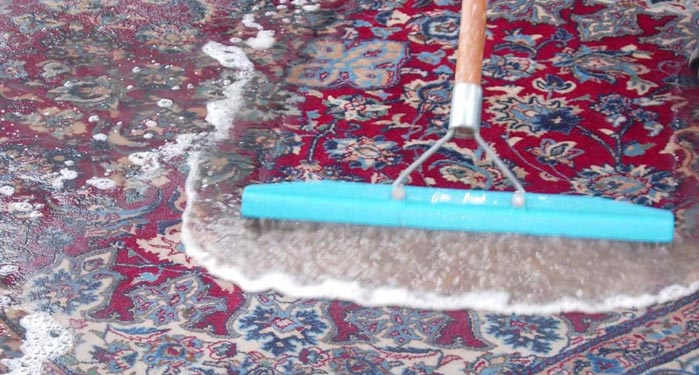 Oriental rugs should not be cleaned on location like wall-to-wall carpet. Professional rug washing is a science requiring years of knowledge, skills, and expertise that can only be obtained through training & years of experience.
Oriental Rug Cleaning Pet Urine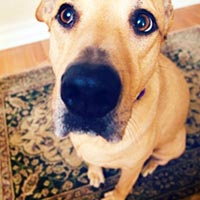 One of the common issues we deal with is pet urine. It can be quite an issue and stains may become permanent if it is left on the rug for long time. Learn more
7-Step Rug Washing Process
Turnaround Time: 5 – 7 business days.
We do not use scrubbing machines, rotary carpet cleaning machines, automated systems, wash tubs, or large industrial machines when cleaning your rugs. The following rug washing process pertains to wool rugs in particular.

1

Inspection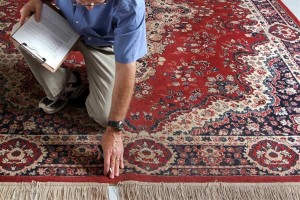 Upon pick up or arrival at our facility, the rug is rolled out, identified, measured, and inspected. Each rug treated according to its characteristics. We analyze the knot structure, rug dyes, condition, age, & damage and is inspected for any per-existing conditions or problems, which will then be discussed with you.
The dyes of your rug tested for colorfastness. It's very important to inspect your rugs before we start the washing process. There is no one solution to fit all.
2

Vacuum & Dusting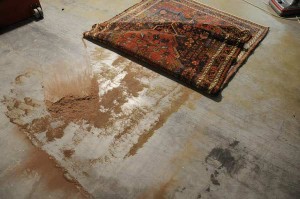 We vacuum the rug's front and back to remove hair and lint, as well as fine particle soil that sifts through the rug over time.
Settlement of dust, sand, or grit can reduce the life of a carpet by causing premature wear. This is an important step in the cleaning process, and is not included at cleaners offering on-site cleaning, dry cleaning, steam cleaning and other cleaning methods. It may be prudent to dust the rug multiple times.
3

Hand-Wash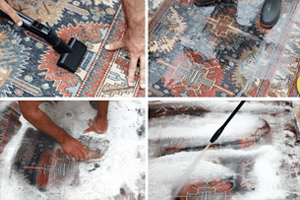 The rug is soaked front and back with plenty of clean, cold water. An organic rug shampoo is applied and the rug is hand-washed going the way of the pile. All work is gently done by hand to insure that no damage is caused.
While the process is more time consuming, it enables us to remove dirt, pet stains/odor and allergens from your rugs and make them look beautiful, preserving their value and ability to be passed on as family heirloom.
4

Complete Rinse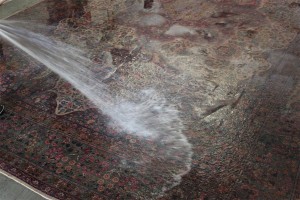 Safely and gently – We continue to rinse until the shampoo is removed (determined by taking pH readings) and the water running off your rug is clear.
5

Drying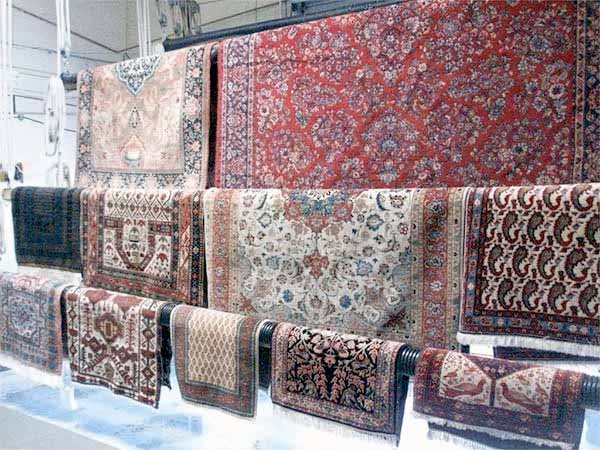 The clean water is extracted from the carpet using an extraction vacuum (only time a machine is used). It is carefully hung to dry in a temperature controlled room – filtered air drying conditions, with no allowance for growth of mold or bacteria. This process takes between 24-48 hours depending on the rug.
6

Fringe Grooming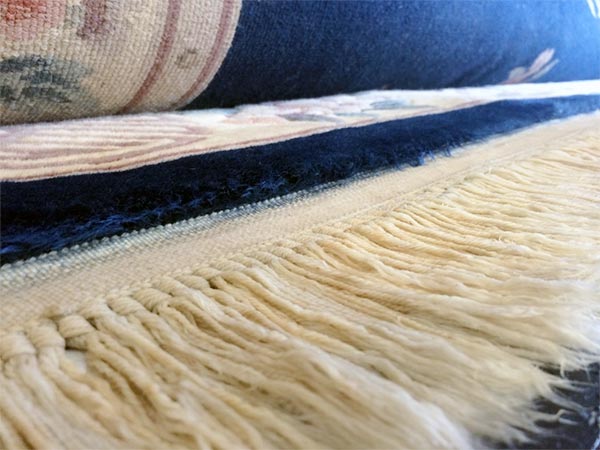 We hand clean the rug fringes. We will never bleach your rugs' fringes (snow white fringes). Bleach will deteriorate the fringe fiber.
7

Inspect & Wrap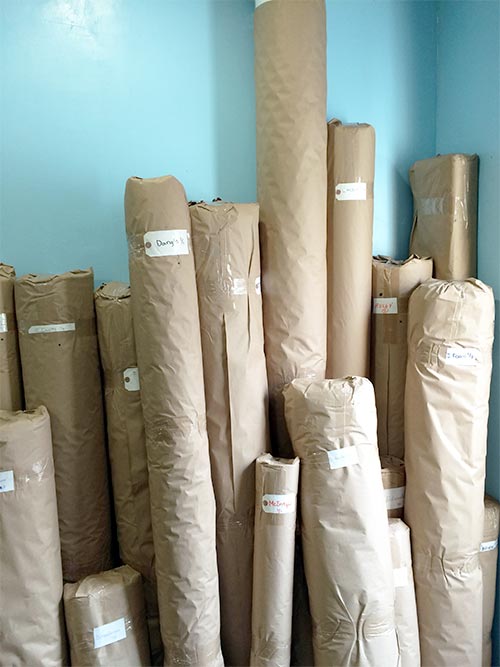 Your rug will be wrapped in brown craft paper to protect it from dust and environmental soils until it is picked up or delivered.
When your rug is delivered, we will place the rug where you desire, including moving and repositioning furniture – larger furnishings (pianos, extra heavy pieces, etc.) may require special arrangements.
Our Difference:
We do not use scrubbing machines, rotary carpet cleaning machines, automated systems, wash tubs, or large industrial machines when cleaning your rugs.
FAQ's
Specials
Save 10% + Free Pickup and Delivery
for area and Oriental rugs 8×10 and larger.

I just had a beloved silk rug returned. The rug had been used in my high-traffic foyer for several years. They took my sentimental souvenir and made it sparkle again. They offered convenient pick-up and delivery, which was a huge plus. I highly recommend using them for rugs you want treated well.
K.P. from Washington, DC