Keeping area rugs safe, comfortable and beautiful is as easy as simply adding a rug pad underneath.
In addition to extra cushion underfoot, rug pads provide the safety of a stable, non-slip surface that helps prevent rugs from sliding around. Pads also keep rugs smooth, flat and wrinkle-free for added beauty and ease of vacuuming. Best of all rug pads help reduce wear, which can extend the life of your rugs for many years to come.
Sphinx offers a wide selection of rug pads for any shape and size of rug.
Provides non-slip for safety

Keeps rugs smooth, flat, and wrinkle-free

Makes vacuuming easier

Extends the life of all rugs reducing wear

Adds cushion or firmness underfoot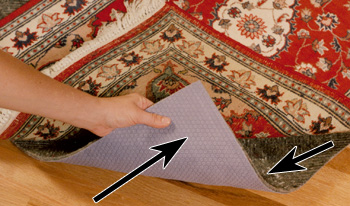 THE SURFACE:
Thermal-set ridges on the upper surface,in an exclusive pattern of chevrons,running in multiple directions,enables the pad to grip the rug more effectively and prevents lateral motion in ANY direction.
THE BACKING:
Superior natural latex rubber formulation in a new,exclusive hexagonal "tire tread" pattern,plus more real rubber in actual contact with any bare floor,no matter how slippery,and provides the highest degree of non-slip traction.
LONGER RUG WEAR MAXIMUM NON-SKID
THE PADDING:
Needle-punched Synthetic fiber construction prevents decomposition and shredding,minimizing mildew and odors even if damp.
VERSATILITY:
This pad protects any oriental or other area rug laid over any hard floor – wood,tile,stone,brick,terrazzo,laminate,etc.- including highly waxed and polished surfaces.
HYPOALLERGENIC:
100% synthetic,chemically inert padding contains NO plant or animal fibers to decompose,outgas,or aggravate allergies.
"Compare DuraHoldPlus™ with any other rug pad…try to pull them apart…you'll see why DuraHoldPlus™ is best!"
Due to the changing nature of some vinyl floors,No-Muv Corporation advises to check with the flooring manufacture as some vinyls react negatively to rubber.
10 Year Limited Guarantee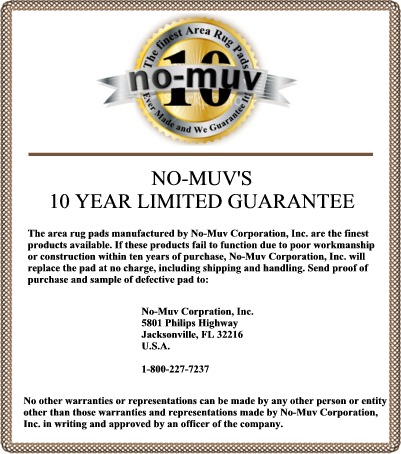 Dura-Hold Plus, LongLife, Rug-Chek Plus: Long Life: Omni Pad
Due to the changing variety of polymers used on floor covering surfaces it is advised to consult with the flooring company prior to use of any cushions on hard surface floors.
| | | |
| --- | --- | --- |
| DuraHold Plus™ | 2′ x 6′ | $35.24 |
| DuraHold Plus™ | 2′ x 8′ | $46.00 |
| DuraHold Plus™ | 2′ 6″ x 12′ | $85.25 |
| DuraHold Plus™ | 3′ x 5′ | $39.64 |
| DuraHold Plus™ | 4′ x 6′ | $70.25 |
| DuraHold Plus™ | 5′ x 8′ | $80.00 |
| DuraHold Plus™ | 6′ Square/Round | $80/00 |
| DuraHold Plus™ | 6′ x 9′ | $120.99 |
| DuraHold Plus™ | 8′ x 8′ Square/ Round | $160.25 |
| DuraHold Plus™ | 7′ x 10′ | $172.99 |
| DuraHold Plus™ | 8′ x 10′ | $168.75 |
| DuraHold Plus™ | 9′ x 12′ | $254.79 |
| DuraHold Plus™ | 12′ x 12′ Square/ Round | $338.45 |
| DuraHold Plus™ | 10′ x 14′ | $394.75 |
| DuraHold Plus™ | 12′ x 16′ | $444.75 |
| DuraHold Plus™ | 12′ x 18′ | $474.45 |